About Us
Best Kebab and Pizza is a Turkish takeaway in London. Why don't you try our Mayo or Pot of Sauce?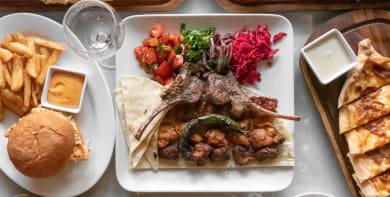 Reviews
316 reviews
James
"Nice food and good helpful service over the phone thanks"
14/06/2021
Lorna
"Great tasting food!"
11/06/2021
Yoselin
"Even tho the driver was so polite and the food was amazing . So the lateness was no a problem after all, we'll order again"
28/05/2021
Steven
"Brilliant"
28/05/2021
Menu
Can Special
1 Skewer of chicken shish
1 Skewer shish
1 Skewer of kofta kebab
Chicken doner & lamb doner
Hummus
1 Chip
5 Pitta bread
Any 3 pot of sauce
Bottle of drink
£25.99
Best Special
2 Skewer chicken shish
2 Skewer shish
2 Skewer of kofta kebab
Chicken doner & lamb doner
1 Hummus
3 Chips
6 Pitta bread
Any 3 pot of sauce
Bottle of drink
£35.00
Special Kebab 1
Sony sp, kofte, chicken doner, lamb doner, chicken shish, mushrooms, pepper, onion, 2 pittas, 2 sauces, salad, 1 chips & 2 cans of drink
£20.00
Special Kebab 2
Ilhan special chicken shish, doner, kofte, salad, 2 pittas, chips, mushrooms, onions, pepper, pot of sauce, any 2 cans of drink
£17.00
Special Kebab 3
Chicken doner, lamb doner, kofte shish, lamb shish, chicken shish, salad, sauce 3 pitta breads & 1 chips
£21.00
Chicken Doner Kebab Small
Specially prepared chicken roasted on an oven spit
£8.50
Chicken Doner Kebab Large
Specially prepared chicken roasted on an oven spit
£10.00
Mixed Kebab 1
Lamb shish, kofta kebab & doner with 2 pitta
£16.00
Mixed Kebab 2
Chicken shish, kofta kebab & doner with 2 pitta
£16.00
Lamb Doner Rice Kebab Small
£7.50
Lamb Doner Rice Kebab Large
£9.80
Chicken Doner Rice Kebab Small
£7.50
Chicken Doner Rice Kebab Large
£9.80
Lamb Shish Rice Kebab Small
£7.50
Lamb Shish Rice Kebab Large
£9.80
Chicken Shish Rice Kebab Small
£7.50
Chicken Shish Rice Kebab Large
£9.80
Lamb Doner & Chicken Shish
£10.00
Chicken Doner & Lamb Doner
£10.00
Any 2 Combination Kebabs Regular
£8.50
Any 2 Combination Kebabs Large
£16.00
Any 3 Combination Kebabs Regular
£17.00
Any 3 Combination Kebabs Large
£22.00
Turkihs Sosage Sucuk Rapts
6pcs
£7.00
Quarter Pounder Burger Regular
£4.00
Quarter Pounder Burger With Cheese
£4.20
Quarter Pounder Burger With Cheese & Mushrooms
£4.70
Quarter Pounder Burger With Cheese, Mushrooms & Eggs
£5.70
Half Pounder Burger Regular
£5.00
Half Pounder Burger With Cheese
£5.20
Half Pounder Burger With Cheese & Mushrooms
£5.70
Half Pounder Burger With Cheese, Mushrooms & Eggs
£6.50
Vegetarian Burger Regular
£4.00
Vegetarian Burger With Cheese
£4.20
Chicken Fillet Burger Regular
£4.00
Chicken Fillet Burger With Cheese
£4.20
Hawaiian Burger With Cheese
£5.20
Monster Burger Regular
Quarter pounder with chicken shish
£5.50
Monster Burger With Cheese
Quarter pounder with chicken shish
£5.70
Fish Burger Meal Deal
Eny can drinks
£6.50
Doner Meat & Cheese Small
£6.50
Doner Meat & Cheese Large
£7.80
Chicken Doner Meat & Chips Small
£6.80
Chicken Doner Meat & Chips Large
£7.80
Chicken Nuggets & Chips 08 Pieces
£5.00
Chicken Nuggets & Chips 10 Pieces
£6.00
Scampi (10 Pieces) & Chips
£6.00
Potato Veggie with Cheese
£5.00
Large Potato Wedges with Cheese
£4.00
Mozzarella Sticks (6 Pieces)
£4.00
Salad in Pitta & Chips Regular
£4.00
Salad in Pitta & Chips With Cheese
£4.50
Chicken Doner Meat & Chips Small
£5.50
Chicken Doner Meat & Chips Large
£6.80
Chicken Doner Meat & Chips with Cheese Small
£6.50
Chicken Doner Meat & Chips with Cheese Large
£8.50
Portion Halloumi (6 Pieces)
£5.00
Portion Green Chilli Pickle
£2.30
Fish Finger (4 Pieces) & Chips
£3.80
Fish Finger (6 Pieces), Chips & Drink
£5.00
Calamari (6 Pieces), Chips, Salad & Any Sauce
£7.00
Calamari (8 Pieces) Portions & Any Sauce
£6.00
Calamari (12 Pieces) & Any Sauce
£7.00
Garlic Mushrooms (8 Pieces)
£3.70
Garlic Mushrooms, Salads, Any Sauce & Chips
£5.70
4 Onion Rings, 4 Nuggets with Chips
£5.00
4 Mozzarella Sticks & 4 Onion Rings with Chips
£5.00
Turkihs Sosage Sucuk Portion
6pcs
£6.00
All Ben & Jerry's Ice Cream
£6.50
Kids Meat & Chips
Chicken or lamb
£4.70
Kids Chicken Nuggets (5 Pieces) & Chips
£4.70
Kids Fish Finger (5 Pieces) & Chips
£4.70
Quarter Pounder Burger Meal
Quarter pounder burger & cheese
Chips & can drink
£6.70
Half Pounder Burger Meal
Half pounder burger & cheese
Chips & can drink
£8.20
Vege Burger Meal
Vegetarian burger
Chips & can drink
£6.20
Chicken Fillet Burger Meal
£7.20
King Size Burger Meal
King size burger & cheese
Chips & can drink
£10.00
Mixed Doner Meal Small
Mixed doner
Chips & can drink
£8.20
Mixed Doner Meal Large
Mixed doner
Chips & can drink
£9.70
Doner Kebab Meal Small
Lamb or chicken Doner
Chips & can drink
£7.69
Doner Kebab Meal Large
Lamb or chicken Doner
Chips & can drink
£8.69
Shish Kebab Meal Small
Lamb or chicken or kofta kebab
Chips & can drink
£8.20
Shish Kebab Meal Large
Lamb or chicken or kofta kebab
Chips & can drink
£9.70
Lamb Doner With Rice Small
£7.50
Lamb Doner With Rice Large
£8.50
Chicken Doner with Rice Small
£7.50
Chicken Doner with Rice Large
£8.50
Chicken Shish with Rice Small
£7.50
Chicken Shish with Rice Large
£8.50
Lamb Shish with Rice Small
£7.50
Lamb Shish with Rice Large
£8.50
Kofte Kebab with Rice Small
£7.50
Kofte Kebab with Rice Large
£8.50
Lamb Doner Rice Salat Small
£7.50
Lamb Doner Rice Salat Large
£8.50
Chicken Doner Rice Salat Small
£7.50
Chicken Doner Rice Salat Large
£8.50
Any Kebab Rice Drink Meal Small
£7.90
Any Kebab Rice Drink Meal Large
£8.90
Contact Us
Find Us
124a New Cross Road, London, SE145BA
We deliver to
SE1, SE10, SE13, SE14, SE15, SE16, SE17, SE4, SE5, SE8