About Us
Best Kebab and Pizza is a Turkish takeaway in London. Why don't you try our Mayo or Pot of Sauce?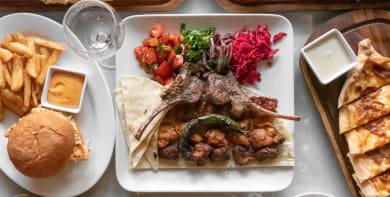 Reviews
277 reviews
Mez
"Excellent food, kindest delivery man and added desert free of charge too! Highly Recommended!"
26/07/2021
Simon
"My favourite burgers, always made to perfection for me"
04/07/2021
James
"Nice food and good helpful service over the phone thanks"
14/06/2021
Lorna
"Great tasting food!"
11/06/2021
Menu
Can Special
1 Skewer of chicken shish
1 Skewer shish
1 Skewer of kofta kebab
Chicken doner & lamb doner
Hummus
1 Chip
5 Pitta bread
Any 3 pot of sauce
Bottle of drink
£25.99
Best Special
2 Skewer chicken shish
2 Skewer shish
2 Skewer of kofta kebab
Chicken doner & lamb doner
1 Hummus
3 Chips
6 Pitta bread
Any 3 pot of sauce
Bottle of drink
£35.00
Special Kebab 1
Sony sp, kofte, chicken doner, lamb doner, chicken shish, mushrooms, pepper, onion, 2 pittas, 2 sauces, salad, 1 chips & 2 cans of drink
£20.00
Special Kebab 2
Ilhan special chicken shish, doner, kofte, salad, 2 pittas, chips, mushrooms, onions, pepper, pot of sauce, any 2 cans of drink
£17.00
Special Kebab 3
Chicken doner, lamb doner, kofte shish, lamb shish, chicken shish, salad, sauce 3 pitta breads & 1 chips
£21.00
Chicken Doner Kebab Small
Specially prepared chicken roasted on an oven spit
£8.50
Chicken Doner Kebab Large
Specially prepared chicken roasted on an oven spit
£10.00
Mixed Kebab 1
Lamb shish, kofta kebab & doner with 2 pitta
£16.00
Mixed Kebab 2
Chicken shish, kofta kebab & doner with 2 pitta
£16.00
Lamb Doner Rice Kebab Small
£7.50
Lamb Doner Rice Kebab Large
£9.80
Chicken Doner Rice Kebab Small
£7.50
Chicken Doner Rice Kebab Large
£9.80
Lamb Shish Rice Kebab Small
£7.50
Lamb Shish Rice Kebab Large
£9.80
Chicken Shish Rice Kebab Small
£7.50
Chicken Shish Rice Kebab Large
£9.80
Lamb Doner & Chicken Shish
£10.00
Chicken Doner & Lamb Doner
£10.00
Any 2 Combination Kebabs Regular
£8.50
Any 2 Combination Kebabs Large
£16.00
Any 3 Combination Kebabs Regular
£17.00
Any 3 Combination Kebabs Large
£22.00
Turkihs Sosage Sucuk Rapts
6pcs
£7.00
Quarter Pounder Burger Regular
£4.00
Quarter Pounder Burger With Cheese
£4.20
Quarter Pounder Burger With Cheese & Mushrooms
£4.70
Quarter Pounder Burger With Cheese, Mushrooms & Eggs
£5.70
Half Pounder Burger Regular
£5.00
Half Pounder Burger With Cheese
£5.20
Half Pounder Burger With Cheese & Mushrooms
£5.70
Half Pounder Burger With Cheese, Mushrooms & Eggs
£6.50
Vegetarian Burger Regular
£4.00
Vegetarian Burger With Cheese
£4.20
Chicken Fillet Burger Regular
£4.00
Chicken Fillet Burger With Cheese
£4.20
Hawaiian Burger With Cheese
£5.20
Monster Burger Regular
Quarter pounder with chicken shish
£5.50
Monster Burger With Cheese
Quarter pounder with chicken shish
£5.70
Fish Burger Meal Deal
Eny can drinks
£6.50
Doner Meat & Cheese Small
£6.50
Doner Meat & Cheese Large
£7.80
Chicken Doner Meat & Chips Small
£6.80
Chicken Doner Meat & Chips Large
£7.80
Chicken Nuggets & Chips 08 Pieces
£5.00
Chicken Nuggets & Chips 10 Pieces
£6.00
Scampi (10 Pieces) & Chips
£6.00
Potato Veggie with Cheese
£5.00
Large Potato Wedges with Cheese
£4.00
Mozzarella Sticks (6 Pieces)
£4.00
Salad in Pitta & Chips Regular
£4.00
Salad in Pitta & Chips With Cheese
£4.50
Chicken Doner Meat & Chips Small
£5.50
Chicken Doner Meat & Chips Large
£6.80
Chicken Doner Meat & Chips with Cheese Small
£6.50
Chicken Doner Meat & Chips with Cheese Large
£8.50
Portion Halloumi (6 Pieces)
£5.00
Portion Green Chilli Pickle
£2.30
Fish Finger (4 Pieces) & Chips
£3.80
Fish Finger (6 Pieces), Chips & Drink
£5.00
Calamari (6 Pieces), Chips, Salad & Any Sauce
£7.00
Calamari (8 Pieces) Portions & Any Sauce
£6.00
Calamari (12 Pieces) & Any Sauce
£7.00
Garlic Mushrooms (8 Pieces)
£3.70
Garlic Mushrooms, Salads, Any Sauce & Chips
£5.70
4 Onion Rings, 4 Nuggets with Chips
£5.00
4 Mozzarella Sticks & 4 Onion Rings with Chips
£5.00
Turkihs Sosage Sucuk Portion
6pcs
£6.00
All Ben & Jerry's Ice Cream
£6.50
Kids Meat & Chips
Chicken or lamb
£4.70
Kids Chicken Nuggets (5 Pieces) & Chips
£4.70
Kids Fish Finger (5 Pieces) & Chips
£4.70
Quarter Pounder Burger Meal
Quarter pounder burger & cheese
Chips & can drink
£6.70
Half Pounder Burger Meal
Half pounder burger & cheese
Chips & can drink
£8.20
Vege Burger Meal
Vegetarian burger
Chips & can drink
£6.20
Chicken Fillet Burger Meal
£7.20
King Size Burger Meal
King size burger & cheese
Chips & can drink
£10.00
Mixed Doner Meal Small
Mixed doner
Chips & can drink
£8.20
Mixed Doner Meal Large
Mixed doner
Chips & can drink
£9.70
Doner Kebab Meal Small
Lamb or chicken Doner
Chips & can drink
£7.69
Doner Kebab Meal Large
Lamb or chicken Doner
Chips & can drink
£8.69
Shish Kebab Meal Small
Lamb or chicken or kofta kebab
Chips & can drink
£8.20
Shish Kebab Meal Large
Lamb or chicken or kofta kebab
Chips & can drink
£9.70
Lamb Doner With Rice Small
£7.50
Lamb Doner With Rice Large
£8.50
Chicken Doner with Rice Small
£7.50
Chicken Doner with Rice Large
£8.50
Chicken Shish with Rice Small
£7.50
Chicken Shish with Rice Large
£8.50
Lamb Shish with Rice Small
£7.50
Lamb Shish with Rice Large
£8.50
Kofte Kebab with Rice Small
£7.50
Kofte Kebab with Rice Large
£8.50
Lamb Doner Rice Salat Small
£7.50
Lamb Doner Rice Salat Large
£8.50
Chicken Doner Rice Salat Small
£7.50
Chicken Doner Rice Salat Large
£8.50
Any Kebab Rice Drink Meal Small
£7.90
Any Kebab Rice Drink Meal Large
£8.90
Contact Us
Find Us
124a New Cross Road, London, SE145BA
We deliver to
SE1, SE10, SE13, SE14, SE15, SE16, SE17, SE4, SE5, SE8